Posted By Administration, Thursday, July 18, 2013

A seasoned leader, preferably with experience taking growing organizations to the next level of reach and impact. S/he will have a proven record of success in fundraising and building relationships with institutional, corporate, and individual donors.

The Regional Director will forge a close working relationship with regional partners to establish a strong presence not only in Louisiana but throughout the South. S/he will establish a local Advisory Board and will foster strategic partnership with a wide array of stakeholders needed to advance Single Stop's vision including existing funders, prospective funders, college presidents, administrators and trustees, state officials, and community based service providers.

ABOUT SINGLE STOP USA: One of the fastest growing and most successful organizations promoting economic mobility in the nation, Single Stop USA (Single Stop) uniquely combines the power of technology and the ingenuity of community organizations to help low-income families draw down billions of existing tax credits, work supports and services that go unused each year.

Single Stop's "one-stop shop" model connects students to thousands of dollars of untapped supports—taking existing resources and turning them into a new form of financial aid. Founded in 2001 in New York City, Single Stop sites have already helped over 700,000 families access $2 billion in benefits, services and financial aid for themselves and their communities.

[FULL POSITION AND APPLICATION INFO]

Career Center access requires Member or Friend login




Permalink | Comments (0)
Posted By Linden O. Uter, Thursday, July 18, 2013

LANO members have a wealth of information to share.

Stay current with the latest news and event information from LANO members by subscribing to the Member News and Events Blog.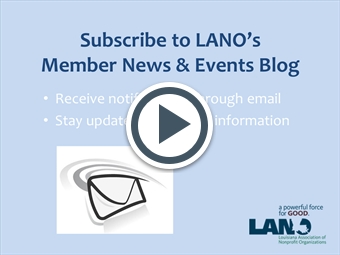 In this short video, learn how to subscribe to LANO's Member News and Events blog, a community resource that helps members keep in touch and stay informed.

Once subscribed, you'll receive a short email notification with a summary and link to new blog entries as they are posted. You may unsubscribe at any time.

Be the first to know about training opportunities, grant proposal requests, nonprofit management tips and special events near you!

Click on the video image above to learn how.

Tags: How-To LANO network Member Blog Member Event Member News Subscribe

Permalink | Comments (0)
Posted By Jeremy Hunnewell, EMH Strategy, Wednesday, July 17, 2013

When most people think of competition, they think of the private sector. Family businesses, large corporations, and nascent start-ups all have to compete for a limited customer base.
In the not-for-profit space, competition is not typically considered as much. One organization tackling a complex social issue does not (seemingly) limit the ability of other non-profits to do the same.
Yet just as companies must constantly innovate to maintain their competitive edge, non-profits competing for a limited amount of financial support from philanthropic donors must also maintain a distinct competitive advantage. Any non-profit should specifically focus on the following four areas to define its purpose and enhance its competitive advantage.
1. Articulate the Need: Donors want to invest in non-profits that meet serious needs. To give donors a clear understanding of why it is deserving of a grant...
...Read the full post at our LANO member blog, The Nonprofit Strategist
(blog open to all Members and Friends)



Tags: strategy

Permalink | Comments (0)
Posted By David Precise, NAMI Louisiana, Tuesday, July 16, 2013

NAMI Louisiana is looking for a good, nonprofit-friendly (i.e., affordable) conference facility in Baton Rouge that can accommodate approximately 300 at a gathering scheduled for next March or April, 2014.

If you have any suggestions, leads or offers of space, please contact David Precise at: dprecise@namilouisiana.org

Thank you!

This post has not been tagged.

Permalink | Comments (0)
Posted By Erica Crenshaw, Execute Now!, Tuesday, July 16, 2013

In spite of how informed we've all become about how to run our nonprofits, how to measure our impact and how to update our business models, a recent study by the Center for Effective Philanthropy reports a variety of telling statistics that reveal we still don't know a lot about how foundations choose grantees. Close to 140 nonprofit leaders were surveyed by the Center. Some of the topics charity executives want to clarify include...


By Erica McGeachy Crenshaw, CEO of Execute Now!

Tags: Center for Effective Philanthropy Execute Now! Finance Fundamentals

Permalink | Comments (0)
Posted By Matthew Mullenix, Louisiana Association of Nonprofit Organizations, Monday, July 15, 2013

Jason El Koubi

Congratulations to Jason El Koubi, outstanding business leader and LANO Board member, recently chosen to head the Greater Lafayette Chamber of Commerce.
---
From BATON ROUGE BUSINESS REPORT: Jason El Koubi, assistant secretary with LED and former BRAC policy director, has been selected as the new president and CEO of the Greater Lafayette Chamber of Commerce, The (Lafayette) Advertiser reports. He will begin work in September.

El Koubi was selected from among some 250 applicants, the chamber says in a prepared statement. As assistant secretary at LED, El Koubi leads initiatives and programs related to economic competitiveness, business research, small business services and the entertainment industry. El Koubi served as LED's director of state economic competitiveness prior to his elevation to assistant secretary... [read full story]

This post has not been tagged.

Permalink | Comments (0)
Posted By Laurie Hardison, Big Buddy Program, Monday, July 15, 2013

As part of the Federal Government's Summer Feeding Program, FREE lunch is being offered from 11AM till 1PM to youth ages 18 and under at St. Francis Xavier School, 1150 South 12th Street in Baton Rouge. All youth ages 18 and under may eat for FREE.
The program will be active Weekdays through Friday, August 9, 2013.
This post has not been tagged.

Permalink | Comments (0)
Posted By Laurie Hardison, Big Buddy Program, Sunday, July 14, 2013

Summer Learning Loss is real – but very preventable!
Big Buddy wants you to know: All young people experience learning losses when they do not engage in educational activities during the summer. (White, 1906; Heyns, 1978; Entwisle & Alexander 1992; Cooper, 1996; Downey et al, 2004).
Most students lose about two months of grade level equivalency in mathematical computation skills over the summer months. Low-income students also lose more than two months in reading achievement, despite the fact that their middle-class peers make slight gains (Cooper, 1996).
More than half of the achievement gap between lower and higher-income youth can be explained by unequal access to summer learning opportunities. As a result, low-income youth are less likely to graduate from high school or enter college (Alexander et al, 2007).
Children lose more than academic knowledge over the summer. Most children—particularly children at high risk of obesity—gain weight more rapidly when they are out of school during summer break (Von Hippel et al, 2007).
Parents consistently cite summer as the most difficult time to ensure their children have productive things to do (Duffett et al, 2004)……
Don't let the youth in your life suffer from Summer Leaning Loss. Conduct simple experiments (this is easy to do while cooking), make a simple craft, use daily activities for math and writing opportunities, or just read daily to your children. All of this can make a difference in closing that achievement gap.
Big Buddy can help you combat Summer Learning Loss as well.
Click on link below to download the Big Buddy Summer Learning Calendar.
This post has not been tagged.

Permalink | Comments (0)
Posted By Denise McMahan, CausePlanet, Thursday, July 11, 2013


"Even though Millennials are the next generation of donors and constituents, leaders spend far more resources focused on maintaining their existing supporters rather than trying to cultivate new ones—so much so, that they cannot see beyond their current donor strategies and systems to a future where those supporters are no longer around," assert the...
by Denise McMahan, Founder, CausePlanet
Read more about the "next greatest generation" and register now for our next live author interview with branding expert Jocelyne Daw: Become a "cause of choice" for corporate support
Special thanks to the Blue Cross and Blue Shield of Louisiana Foundation for providing every LANO member with access to CausePlanet's summary library and author interviews in 2012-2013.
Permalink | Comments (0)
Posted By Matthew Mullenix, Louisiana Association of Nonprofit Organizations, Thursday, July 11, 2013

Volunteer Louisiana and LANO will host the first of several regional Volunteer Fairs on Saturday, August 10, 2013, from 9AM till 3PM at the Louisiana State Museum at the Capital Park in Baton Rouge.

This free, public event will gather local nonprofit organizations and community-minded citizens for a day of networking, family fun and raising awareness about important causes in need of support.

A limited number of free booths are available for local nonprofits to staff and provide information about their mission and volunteer needs.

Classes on volunteer management and volunteer recruitment will be given by Volunteer Louisiana staff from 1-3 PM in the Museum main lecture hall. Registration is required separately for each class.

A food truck will be available around midday for those wishing to purchase lunch on site. Any additional activities planned will be promoted via this website and LANO on or before August 10.

This post has not been tagged.

Permalink | Comments (0)