LANO Chief Makes National List of Top 50 Nonprofit Leaders
Thursday, August 02, 2012 (1 Comments)
Posted by: Matt Mullenix

LANO President and CEO Ann S. Williamson
UPDATE, September 20: Ann S. Williamson receives recognition for Top 50 listing at National Press Club event in Washington D.C.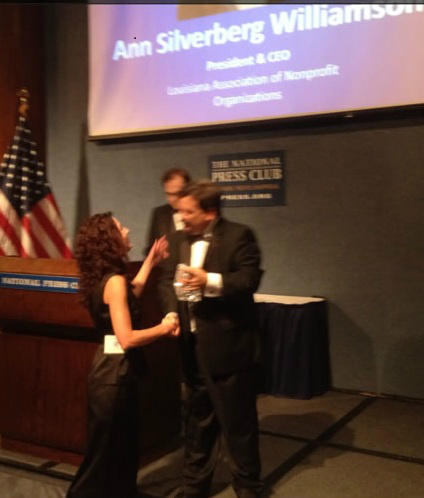 BATON ROUGE—Ann Silverberg Williamson, President & CEO of the Louisiana Association of Nonprofit Organizations, or LANO, has been named among 50 of the nation's leading nonprofit executives in an annual ranking released August 1 by industry publication The Nonprofit Times.
For the fifteenth consecutive year, the NPT Power & Influence Top 50 ranking has surveyed executives from across the country to compile a list of nonprofit leaders whose work best addresses the unique challenges of their time.
According to its publishers, this year's anniversary edition reflects an opportunity to look back and forward, highlighting both seasoned executives and the "next generation" of nonprofit leaders to guide the sector through coming decades.
Williamson occupies a unique position on the list, having served in executive human service roles in state government and now leading a state-wide association of nonprofits, organizations that together form the backbone of service delivery to Louisiana's most needy citizens.
Williamson is cited specifically for her advocacy of new nonprofit revenue models in a state that has seen sector-wide declines in funding following a post-Katrina surge in charitable donations. Under her leadership, LANO documented this decline through reports and public testimony related both to natural disasters and later, the man-made devastation of the Gulf Oil Spill.
In addition to providing evidence for a crisis in nonprofit funding, Williamson's LANO demonstrated an effective organizational response by diversifying the Association's funding sources, reducing expenses, expanding partnerships, re-investing in membership value and emerging as a stronger, more focused organization, better able to meet its mission.
Under Williamson's guidance, LANO has translated these necessary lessons of nonprofit sustainability into a diverse, multi-media curriculum delivered through new electronic and print publications, a unique social networking platform, access to online funding databases and management libraries, live seminars, one-on-one coaching, regional institutes and annual conferences.
These efforts have in turn increased LANO's membership, deepened its partnerships with business and foundation leaders, and helped rebrand the Association as an effective nexus for nonprofit and community collaboration.
Williamson expressed gratitude for this recognition, which she says directly reflects the hard work and vision of her staff.
"Coming amid LANO's own 15th Anniversary year," said Williamson, "this appreciated recognition reminds us to continue taking the best of what LANO has done and move it forward. We need to keep our work relevant and alive to meet today's needs; this will take our best efforts and the support of every change-maker we can enlist for the cause."
Sharing the spotlight with Williamson in this year's ranking are veteran philanthropic luminaries like James Firman, President & CEO of the National Council on Aging; Bill Gates, Co-Founder of the Bill & Melinda Gates Foundation; Rebecca W. Rimel, President & CEO of The Pew Charitable Trusts; and Judith Rodin, President of the Rockefeller Foundation. Emerging leaders in the newest nonprofit arenas are also on the list, including Wendy Harman, Social Media Manager for the American Red Cross, and Ben Rattray, Founder and CEO of Change.org.
For more information about the work of LANO, Ann S. Williamson and her staff, contact Matt Mullenix, VP for Public Relations, at matthewmullenix@lano.org or see www.lano.org.